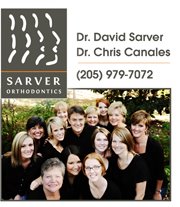 Birmingham, AL (PRWEB) March 10, 2012
Birmingham Orthodontist Dr. David Sarver was quick to react when he received word that Allen Wes Edgar needs the communitys help to remain eligible for a kidney transplant. He wrote a check on the spot toward the $ 20,000 to $ 40,000 needed for Wes to continue immunosuppressant treatment alone. And then he pledged even more. I decided to make Wes cause something very personal to our practice, our patients and employees, alike, to help spread the word, and ultimately, to help Wes beat the disease, offers Dr. Sarver.
Personal to the practice means something pretty significant to the cause as Sarver Orthodontics is pledging $ 100 to Wes charity for every new patient that begins orthodontic treatment in the month of March. The Birmingham braces and Invisalign specialist's spokesperson, Drue OKelley, states, When Dr. Sarver suggested his plan to the staff, we were thrilled. Its very much the person that Dr. Sarver is. She adds, Given the number of people with whom we communicate daily, we have a unique opportunity to spread the word. It may require that we tighten our belts, but I cant imagine a better reason than to support a Birmingham family that has supported Birmingham at every turn.
Dr. Sarver knows the Edgar family personally, but its not for this acquaintance alone that hes pledged to help Wes. Dr. Sarver states, They are the family that is always the first to volunteer and the last to leave once involved. They are the family that is always at the ballpark, church, or community events, selflessly helping, coaching, umpiring, everything. They are the people that make Birmingham a great place to live. So in their time of need, Sarver Orthodontics is glad to answer the call.
Wes was diagnosed in July 2011 with End Stage Kidney Disease.