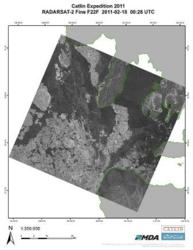 London (Vocus/PRWEB) 8 March 2011
The Catlin Arctic Survey's support team confirmed today that they have now identified the landing strips for the planes which will carry their teams onto the frozen ocean to begin the scientific expedition.
Later this week a Twin Otter plane will leave Resolute in northern Canada carrying a team of four explorers to start a trek across the floating ocean ice. At the same time, weather permitting, a larger DC3 aircraft will transport a small crew and a mountain of equipment to begin building a seasonal Ice Base on sea ice off Ellef Ringnes Island on the edge of the Arctic Ocean.
Head of Operations, Chip Cunliffe, has used images taken by MDA's RADARSAT-2 satellite to study the ice conditions. "These images are invaluable," said Cunliffe. "I can see exactly where the ice is solid enough to land a plane and spot the areas of open water or broken ice. Once the pilots we're working with have checked them out on a reconnaissance flight, we'll be ready to go."
"Without these satellite images it would be far harder to decide where to make an ice landing. Ultimately it is down to the pilots' decision on the day, but data like this has a huge value."
The Catlin Arctic Survey is in the polar region for its third year of operations. It's a unique collaboration between explorers and scientists enabling field survey work and research to be done which would otherwise be nearly impossible to complete at this time year.
Cunliffe's logistical support crew are enabling six scientists to work at a tented facility – the Ice Base – for two months, whilst the expedition's explorers will undertake survey work across 350 miles of shifting sea ice. If all goes to plan, they'll cross the Prince Gustaf Adolf Sea before being flown by plane to the North Geographic Pole to start a second trek towards Greenland.

With the weather in the Arctic notoriously unpredictable, Cunliffe is now looking closely at the weather forecasts before giving the green light for the expedition to start. "Once the teams are safely on the ice I'll be able to relax" said Cunliffe. It is hoped the deployment operation will be able to start early on Thursday morning (March 10th)
The Catlin Arctic Survey's science programme is focused on the water immediately beneath the sea ice and on the processes which sustain major ocean currents that carry heat and nutrients around the world's oceans. It is also continuing work it began last year on how Carbon Dioxide is absorbed by seawater leading to acidification.
# # #